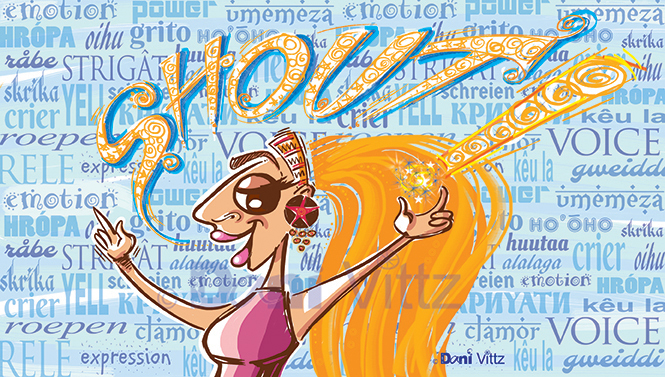 Dani Vittz
Specializes in Animated Sketches, Caricatures, Character Development, Concept Art, Digital Illustrations, Live Graphic Recording and Video Scribing.
For over 25 years Dani's creations have activated brands, been advertised in magazines, wrapped packaging, added humour to plain products, hung on walls, been gorgeous portraits on social media, launched hundreds of products, made you think about colour, made you think, saved reputations, been an ice breaker at corporate events and made you laugh out loud!....even snort at times.
Dani's clients come from a wonderful variety of areas including Advertising, Broadcasting, Chewing Gum makers, Corporate, Conferences/ Forums, Design Studios, Entertainment, Financial Gurus, Health and Safety Experts, Home Builders, IT, Law, Local Councils, Marketing and Communication Agencies, Magazine Empires, Organic Produce, Sport Lovers, Social Services, Transport, Wine Makers and Wildlife Parks.
Published nationally in ACP Magazines and Pacific Publications and internationally for Cosmopolitan, Esquire, Harper's Bazaar, Rolling Stone and Speed.
Dani is also working with Alex Kesselaar at Video Scribing. It is a collaboration of creatives working together to develop fun cartoon style corporate videos. Using the power of visual story telling and humour to promote client products, services and brands. www.videoscribing.com.au
Services
Digital Illustration
Promos, adverts, corporate collateral, web, print, publishing, presentations
Animated Illustrations
Short digital illustrations animated to bring movement to events and online material
Character Design
Video, TV, ads, company mascot
Live Scribing/ Graphic Recording
Conferences, business meetings, forums, seminars
Video Scribing
Cartoon style illustrations for video promos or campaigns
Caricatures
Live at events and portraits from photos
Storyboarding
Videos, print media, adverts, ideas, presentations, conferences
Print Design
Magazine adverts, brochures, logos, branding, packaging
Hand Crafted Originals
Drawings, paintings, boards for personal or corporate
Cartoons
Comics, gifts, publishing
Light Drawing
Drawing with light and long exposure shots
Concept Art
Let the creative mind roam free
Associations and Online Galleries
Feel Secure
Current Public Liability and Public Indemnity Insurance
Current Working with Children Check